There are several reasons someone may want to get a tattoo removed—and a number of tattoo removal methods to get the job done. We decided to take our curiosity about the procedure straight to a tattoo expert. See what Will Card, tattoo artist at Saints & Sinners in Dallas, has to say about PicoWay laser tattoo removal!
Why Do People Want to Cover Up Their Tattoos?
People may want to cover up a tattoo because it was a regrettable decision they made when they were young—or more personally, because the artwork is associated with a person or memory they would like to forget.
No matter the reason, Will frequently meets customers looking to cover up their tattoos. They come to him for several different reasons, some looking to make a positive change in their lives by getting rid of tattoos they got in prison or while associated with a gang. Some of these unwanted tattoos have even been the result of a girls' night out! There isn't an exact "demographic" of people who seek tattoo removal—in fact, Will says the ages of people who come to him are all over the board, commonly ranging from 17 to 25 years old.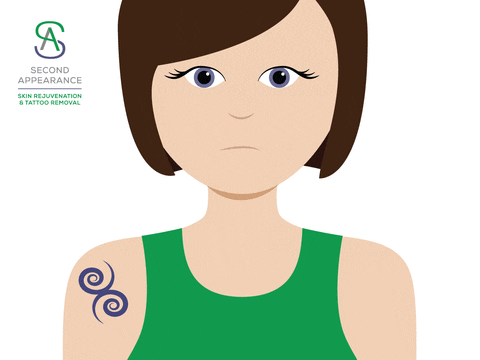 If Covering Up, Why Laser Tattoo Removal?
While most people assume they can just do a cover-up on any tattoo they're no longer interested in keeping, that's not always the case. Some tattoo designs and colors are too dark or complex to tattoo over, in which case Will refers customers to Second Appearance for PicoWay laser tattoo removal.
"I typically ask customers to receive tattoo removal sessions to lighten up the unwanted ink. This way, we can easily tattoo over the area and your old tattoo won't be seen underneath your new artwork.", says Will. Second Appearance will recommend how many treatment sessions are necessary depending on the size and colors of your tattoo.
Why Second Appearance?
The answer is simple—the quality of the equipment. Will refers his customers to Second Appearance because we use PicoWay, allowing our clients to get more bang for their buck! He has met customers who have had anywhere from 15 to 18 tattoo removal sessions at another practice and have barely noticed improvement. But when he sends people to Second Appearance, they notice results after one treatment—and are in absolute shock.
Laser Tattoo Removal in Southlake, Texas
With experts on both sides of the tattoo world backing PicoWay, you know this treatment means business. It's the most comfortable tattoo removal system on the market—and Second Appearance is the only practice in Southlake to offer it.
If you're looking for a way to erase your past or get new ink, maybe it's time to schedule a consultation for laser tattoo removal! Call our office at 817.442.0999 today!